... making refrigerator pickles.
I've made Indian pickles out of all sorts of things, limes, lemons, melons, mangoes, chilies, etc., but I've never made regular cucumber pickles. These are actually quite tasty. Supposed to be ready in 24 hours, and better after two days. Recipe says they'll keep in the fridge for up to 2 months. We'll see. I tasted them after they'd cooled down and liked them. I put onions and jalapeno peppers in with the cucumbers, as well as mustard seed, celery seed, whole garlic cloves, and dill. Hope they don't get too hot. If they do, Pete won't be able to eat them. All in all, I'm pretty satisfied with them. They look nice, smell nice, and taste good. What more could you want?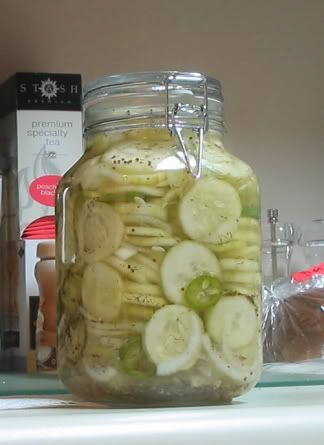 I was a busy little bee today. As well as making the pickles, I made a batch of apple sauce, using granny smith apples with a bit of cinnamon and vanilla bean.
I made a big slab of the whole wheat cheesy bread that Thomas and Pete like. On this one, after I smeared the dough with some roasted garlic, I put on extra sharp white cheddar, crumbled bacon, minced sun-dried tomatoes, basil, and chives.
After that I fixed a full tex-mex dinner, complete with beef fajita meat, re-fried beans, guacamole, fresh salsa, homemade tortillas and all the condiments. We were all quite full after eating dinner, needless to say. I foresee fajita pizzas in mine and Thomas' future. Say... right about lunch time tomorrow.
This cooler weather always inspires me to spend more time in the kitchen. I couldn't believe that they didn't have any squashes or gourds when I went to the store yesterday. My mouth has been watering for Butternut Squash Soup. The recipe I use is actually a recipe for Sweet Potato Soup, but I use an equivalent amount of butternut squash and it's so delicious. They didn't even have any acorn squash, (which will do in a pinch). They had some regular (huge) pumpkins, but... I just didn't need that much. Maybe they will have some winter squashes in soon. Here's the recipe, if anyone is interested:
Butternut Squash Soup
1.5 lb. butternut squash (or sweet potato, pumpkin, other winter squash of your choice)
1 cup chicken broth (can use water or vegetable stock if you prefer)
1/4 cup orange juice (I've used apple juice here, too, it works well)
1/4 tsp. salt (The recipe calls for it, but I usually don't use it. Your choice.)
1/4 tsp. nutmeg (You may want to use less if you aren't used to nutmeg)
1 cup half-and-half (regular or 2% milk works just as well)
If using sweet potatoes, bake them as for eating
as is
. If using squash, cut them in half, remove seeds, place cut side down on baking sheet and bake at 350 F until fork tender; 30-40 minutes, depending on your oven. (You can do this part in the microwave if you want, I just like it better when I roast them in the oven.) When cool enough to handle, scrape the pulp out of the skins and into a food processor. Add 1/2 cup of the broth. Cover and process until smooth. Put this mixture into a 2 qt. saucepan. Stir in the remaining broth, the juice, the salt and the nutmeg. Cook over medium heat, stirring constantly, until just before it boils. Stir in the half-and-half and bring back up to temp. (don't let it boil). Serve.
You can garnish this soup with roasted, chopped nuts, a dollop of sour cream, chopped fresh herbs of choice, or nothing.
*If you don't like the idea of the orange or apple juice, you can leave that out and just add 1/4 cup of additional broth or water. The soup is good either way.
*Another way of preparing this soup is to use curry powder instead of the nutmeg. Use a teaspoon or so of good, quality curry powder and add a little dash of cinnamon. Garnish this curried variety with fresh cilantro, green onions, a dollop of yogurt...
Lord! Now I'm really craving this soup! Gonna have to make it soon. Hope you all will try it. I'm sure you will enjoy it.